Do you struggle to cope with anxiety and stress?


Do you suffer from weekend-binge-eating?
Does getting healthy sound SO inconvenient?
Ready to stop googling symptoms, overwhelming yourself & only ordering
salads every time you go out to eat?
I've been there too. It's no way to live...
I had anxiety most of my life and never even realized. It manifested itself in frequent binge eating, irritability and chronic IBS-like symptoms.
I had no idea the gut & brain were directly connected OR that the majority of our "happy hormones" reside in the gut lining.


90% of your serotonin & 50% of your dopamine are housed in your gut lining.
BUT I know what you're thinking...

"I don't have enough time or energy to meal plan or worry about my
food on top of everything else!"
"I do well eating healthy during the week but my efforts fall flat during weekends and last minute events."


"I've tried everything already and no matter what I do I still have symptoms."
"I love chocolate too much."
"I already know what I should be doing I just don't do it."
 Surprise!
It's not that you lack willpower
It's that you don't know what works for YOUR BODY ...YET!
Imagine you have...
Daily support and accountability from a Certified Health Coach who has done the research for you and prepared weekly grocery lists, meal plans and simple recipes which are gut healing


...WITHOUT giving up the foods you love AND saving you time and
ensuring consistent, sustainable progress!
<< ALL FOR LESS THAN AN HOUR A WEEK! >>
Gut Calm Blueprint
The step-by-step process for healing your gut so you can stop feeling guilty, overwhelmed, anxious and exhausted!
...all while enjoying the foods you love, saving yourself time and ensuring
consistent, sustainable progress!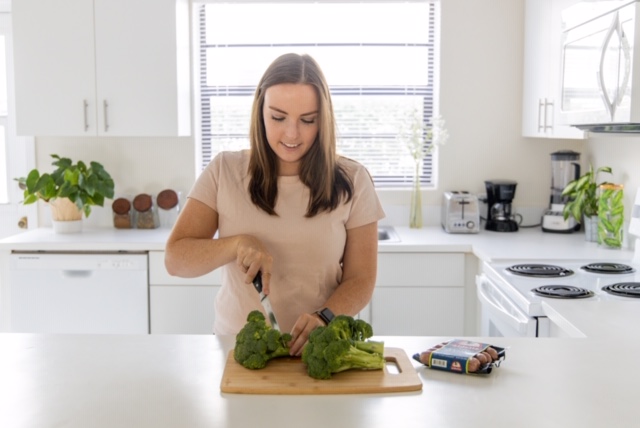 Hi, I'm Ashleen! Creator of The Gut Calm Blueprint.
I know what it's like to feel like you're powerless over your thoughts and actions, like your stomach pain, stress, exhaustion and lack of motivation are just a part of who you are BUT they don't have to be...
I've figured out a way to consistently feel positive, energized, healthy and in control again! Let me show you how inside The Gut Calm Blueprint!
You can think of me as your fairy-gut-mother!

Do you want to know the best part?
I did it all without giving up the foods I love! I gave up counting calories for good and finally getting to a healthy weight for my body without obsessing over food! This allowed me to feel good inside my own skin instead of wanting to crawl out of it!
Believe it or not you can do it too!
Let's take a look inside the program:

It IS for people who are:
>> Ready to nourish their body so they can stop on and off dieting
>> Done spending all their time on google trying to find out where that symptoms came from
>> Sick of telling your friends or family no when they invite you out to eat or you still go [cause FOMO] but are over feeling like sh*t afterwards.
>> Over being the girl who orders salad every time you go out to eat!!
>> Ready to stop feeling powerless over food [want to be able to eat sweets but stop feeling like the sugar is controlling your life]
Who is this NOT for:
>> People with a diagnosis of UC, Crohn's, or any other severe gastrointestinal disorder. It is also not a cure for these diagnoses.
>> If you don't know why getting healthy is important to you, you're probably not ready. Your "why" is an important piece in getting healthy. If you're willing to figure out what your "why" is this membership will be great for you!
>> If you are only interested in quick fixes aka the things you've been trying but aren't working... then this isn't for you. If you want sustainable, consistent health and results then the membership will be a great fit.

Upon enrollment you will have access to:
*BONUS* Weekly grocery list, meal guide & recipes
*Helpful worksheets/resources
*24/7 access to the members only community to ask questions, get support and accountability
With your purchase today, you will have lifetime access to the materials and any future updates!

FAQs:
I've tried everything why is this going to work?
Real talk: have you ever tried doing it, not by yourself? Accountability, support and guidance go way further than reading it and trying to implement on your own. Trust me - I've been there. You think you can do it on your own but it's not working - and if you could - you would have done it by now. Chances are you also tried too much and went too hard. The beauty in this program is that you will likely be doing less than what you've already been doing and getting even bigger results.
Right now just doesn't feel like a good time, I have parties and events to go to...
We feel this way for two reasons, we often prioritize everything and everyone else in our lives over us or you feel overwhelmed by healing your gut so you are avoiding/procrastinating. There's never going to be a right time and you could be getting results right now so you can actually enjoy all those parties and holidays without all the stress, stomach pain or food fear.


How much time commitment is this going to be?
1-2 hours a week going through the content and most of this content will actually save you time because you'll feel more energized and organized. The material is dripped out over the course of 90 days so you can focus on one thing at a time completely eliminating any feelings of overwhelm.
Will I be able to get 1:1 help?
There will be Q+As and a welcome call where we talk through individualizing your plan! If you'd like to exclusively work with me 1:1 throughout the course, you can add on this option if space allows just send an email to [email protected] !
What happens if I can't make a live call?
It is A-OK my friend, I've made sure that all live calls are recorded so you can listen to them podcast-style at whatever time is convenient for you!
What if I want a refund?
Not a problem, we never want you to be unhappy. If you work through the course content and you aren't satisfied we will gladly give you a 30-day money back guarantee. Just email [email protected]

The advice provided here is not intended to form the basis of regular medical treatment or function as a replacement for the advice provided by your general practitioner or a medical specialist, nor is it intended to form the basis of treatment by a dietician or to replace the advice provided by a dietician. The advice provided is limited to general guidelines pertaining to a healthy lifestyle. In the event of acute health problems and/or a worsening of symptoms of ill healthy, please urgently contact the relevant doctor or medical specialist that is treating you. For more information, please see the 
Disclaimer
.